"When people ask about my favourite places in the world, I tell them New Zealand." Normally hearing an artist say this on tour wouldn't be noteworthy, but when Billie Eilish proclaims it during her first of three shows in Auckland, the statement feels genuine. As she reminds the crowd, Spark Arena was the first arena she ever played in 2019; it's why her performance on Thursday night feels like a homecoming of sorts.
A lot has changed for Eilish in the intervening three years. She's won several Grammy Awards, made Glastonbury history, and even earned an Academy Award, all before she can legally drink in her home country. And watching her onstage at Spark Arena, it's difficult to believe that such self-assured stage command could come from a 20-year-old. As soon as she swirls up from an ascending platform, the expectant Kiwi crowd – many of whom have been chanting her name for a long time – is in thrall to this returning pop superstar. 
Wearing just a black baggy t-shirt and shorts, her energy is relaxed as she zips around the sparse stage. A steep ramp leads to the only other two musicians onstage, Eilish's brother Finneas – more on him later – on guitar and piano and Andrew on drums. On the screen above them, tantalising visuals are displayed throughout, some of them mysterious, a lot of them creepy, and some of them sweet. 
Eilish is touring in support of her second studio album, Happier Than Ever, which featured a more downtempo atmosphere than her lively debut album, When We All Fall Asleep, Where Do We Go?, but even a languorous song like "Billie Bossa Nova" doesn't feel lost amidst the cavernous setting. Eilish's soft, whispering vocals arguably suit a slightly smaller venue, but when her voice falters – as it does – it's immediately offset by her winning confidence and effortless charisma. 
After an incessant flurry of songs, Eilish finally pauses to address her fans. There's a proud shoutout for her opener Dora Jar, who possesses the vivacity and lyrical talent that should ensure she's a Gen Z alt-pop star to watch in the coming years, while she tells everyone that she has just three important rules for the night ahead: "Don't be an asshole, don't judge anybody in here, and have fun motherf*ckers," she shouts, a trio of rules that will be unanimously upheld by the crowd. 
The sense of Spark Arena being a safe space for Eilish herself becomes evident as the show progresses. For a person who's publicly detailed their struggles with body issues in the past, she performs with a positive level of comfort, playfully writhing along the stage walkway, every contorted movement being met by wild cheers from the 10,000-strong crowd. 
Looking around the arena, the diverse demographic stands out. There are plenty of young fans, huge pockets of prevailing teenagers, but also a lot of older attendees, all singing every song with just as much gusto as those younger than them. When Eilish implores everyone to get out of their seats and start jumping up and down with her, the call is gleefully taken up en masse.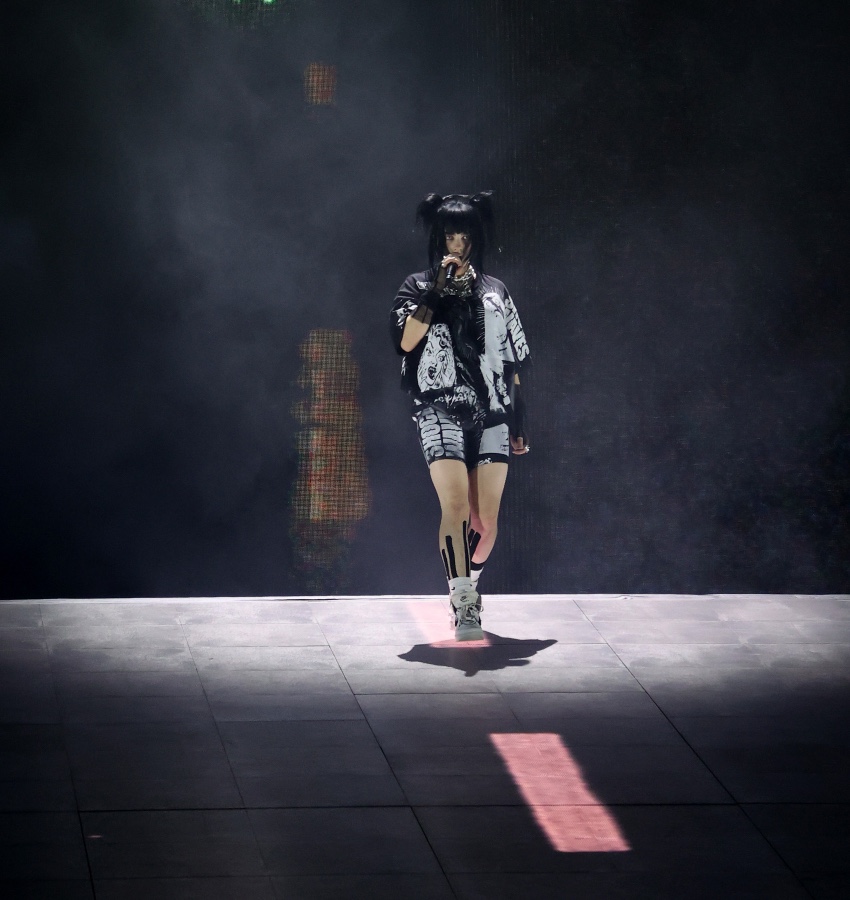 Halfway through her set, Eilish brings Finneas down from his perch to perform three acoustic songs together. Eilish's brother famously plays almost as big a part in her musical success as herself, but onstage he is remarkably reserved; whenever the camera zooms in on his face and fans bellow their appreciation, a stoic look rarely leaves his face. It's a touching attitude towards the younger sister performing below him, who at one point proudly refers to him as her "best friend in the world."
The pair perform three slower ballads – "I Love You", "Your Power", and the recent "TV" – in a sentimental section. When Finneas returns upstage, charming home video footage flashes across the giant screen; as this is displayed, Eilish travels upstairs and sits happily swinging her legs over the platform, watching the footage with everyone else.
During the sombre performance of "TV", Eilish wavers briefly. "This song hurts," she says. As she mutters the lyric "maybe I'm the problem," a small voice from the crowd passionately shouts, "you're not!"
In a moment like that, you remember again that she's just 20-years-old. Eilish's mammoth world tour has seen her work at a relentless rate many seasoned musicians struggle with. She's singing songs about painful mental health struggles and, such as on "TV", vital sociopolitical issues like Roe v Wade. She's also been at a heightened level of fame since her early teenage years. 
What does the next decade hold, even the next 5 years? Watching her in Auckland, surrounded by a compassionate community of family band members and empathetic fans, it feels, crucially, that Eilish will avoid the fates that have sadly befallen some of her youthful pop superstar predecessors. 
Towards the end of the show, the crowd holds up signs saying 'New Zealand missed you', in both English and Māori, and it's a moment of real warmth. "Stan" culture rightfully receives a lot of criticism in 2022, but the palpable adoration shared between Eilish and her fans never feels inauthentic or cloying. Leaving the arena, after everyone shares in a mass singalong of "Happier Than Ever", you realise that thousands of these people will already be hopefully awaiting the next time Eilish returns to these shores. 
After her short New Zealand sojourn, it's on to Australia next for Eilish. Ticket information for all shows can be found here.