Maxim Lepage creates the foundation beneath the magic of Cirque du Soleil. 
Using his expert musical knowledge to build a playground for the acrobats and performers of CRYSTAL, he's the starting point for bringing the show to life. The composer is tasked with creating the score from hints of the emotions the directors want the audience to feel.
"The magic, it comes from the imagination," Lepage tells Rolling Stone AU/NZ. 
CRYSTAL is the famed circus' 42nd production and the first time that it's ventured into creating a world on ice. 
With a blank canvas, Lepage tries to conjure the feeling behind each scene. "I start from nothing but little phrases. There's a lot of pressure. You have a person waiting for the music to be composed so they can work. The programmers, the dancers, the acrobats, the video team, the lighting guys, everybody is waiting for the music to be composed and then the show starts to build on it.
"I make the movie in my head and do the music for that movie. You need to come up with music that inspires other people to work, it's a lot of pressure but it's good, it's very fun." 
Three live musicians move between eight different instruments including a violin, acoustic and electric guitars, accordion, clarinet and saxophone. 
The soundtrack is made up of Lepage's own ideas,  fusing together electronic and classical music to create the signature Cirque sound.
For the first time in Cirque's history, the show includes remastered pop songs such as "Chandelier" by Sia, "Halo" by Beyoncé, "Sinnerman" by Nina Simone and "Beautiful Day" by U2. 
Over two months, the music is scrutinised as talented performers who use artforms like trapeze, pendular poles and aerial straps learn the choreography to mesmerise audiences. 
Recordings are made for the elements that aren't performed live and modifications are made before full rehearsals ensure everything is perfected.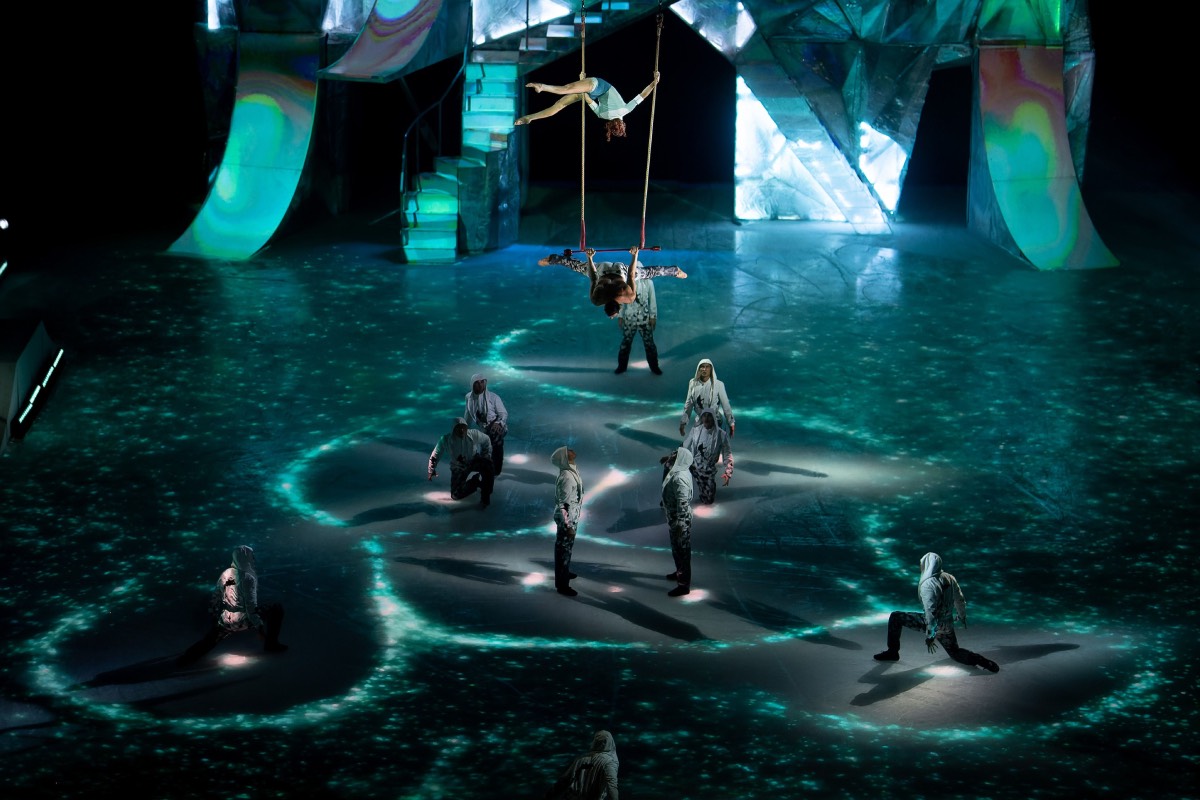 While the process can be full on, Lepage says that once everything is set in motion with the choreography, costumes, performance and production elements, the final showcase is worth all of the hard work. 
With CRYSTAL – and each of his projects – there's a moment when he sees it come together and he's overwhelmed with emotion. "All those feelings, how hard it was to create that project because it's so intense, it's so big, there's so many things to do, so many people to take care of," he says. 
"When you see the music in the bodies of other people, it's quite a big moment every time, I am surprised at how it affects me. You feel drained but happy at the same time, it's quite a special feeling." 
Lepage's passion for storytelling through music was instilled in him at a young age. He was told that as early as three years old, he was fascinated by music played to him by his father from artists like Tangerine Dream. 
"The feeling of when I was listening to music when I was little is still what I am looking for, the emotion that cannot be described by words – it's somewhere within," he says. 
He first learned piano before taking up the cello, and soon became drawn to classical music, wishing to analyse how each note of every instrument can create something powerful. 
Today, he holds a Masters in Musicology from the Université de Montréal after graduating in 2000, and his subsequent career has found him thinking up countless scores for documentaries, TV, film animation, video games – and, of course, the circus. 
Cirque du Soleil directors approached Lepage in 2015 and asked if he would compose music for the Pan Am Games. He was then taken on for Cirque du Soleil's La Forge aux étoiles which had a permanent placement at the Futuroscope in Poitiers in France for four years. 
In 2017, he was approached to write the music score for CRYSTAL, and the acclaimed event is touring Australia and New Zealand between July and September (see full dates below).
Lepage remains inspired by listening to everything from electronic to jazz music, but rarely will listen to the same piece twice. When he's writing, he tries to switch up his approach in order to not fall into the same habits. 
 "Over the years, your fingers are always going to the same places. I know when I compose with a guitar, it's going to be totally different, it's going to make me work in another way," he explains. 
"I also try to work without instruments, and write directly on paper, so my brain can write instead of my fingers. When I play piano, I know my fingers always go to the same chords. I challenge myself not to put them in some pieces so I am discovering other pathways."
When he is putting together the score, Lepage wants to push the musicians to their limits in order to harness their skill and maximise their potential.  
"Since the acrobats are pushing their own limits, why not the musicians as well? They are all extraordinary musicians. It was obvious they wanted challenges themselves," he says. 
"I worked with Stepan Grytsay, who is the violinist on the show right now on tour, and he said that 'when it's difficult it's stimulating.'"
For those considering watching, Lepage says CRYSTAL offers great insight into the world of Cirque du Soleil. 
"It's not like the other Cirques. The atmosphere, it's different, very touching, entertaining at the same time, CRYSTAL is a good one to try." 
Cirque du Soleil CRYSTAL 2023 Australia and New Zealand Dates
Ticket information available via cirquedusoleil.com/crystal
July 4th-9th
Spark Arena, Auckland, NZ
July 21st-30th
Brisbane Entertainment Centre, Brisbane, QLD
August 3rd-13th
Qudos Bank Arena, Sydney, NSW
August 17th-27th
John Cain Arena, Melbourne, VIC
August 31st-September 3rd
Adelaide Entertainment Centre, Adelaide, SA
September 15th-24th
Perth Arena, Perth, WA